MOst loved spoken english courses in greater noida
Ready to Take Your English to the Next Level?
Why Speak English Fluently?
Communicate Confidently at Workplace
Spoken English Classes for
English Caffe's exceptional Spoken English Courses are tailored for Working Professionals in Greater Noida. Designed to empower individuals to communicate fluently and confidently during meetings, presentations, and job interviews, our courses are a gateway to unlocking your career potential. With a strong emphasis on practical application, our courses offer a dynamic blend of language proficiency and workplace-specific scenarios. Mastering the art of English communication not only enhances your professional image but also opens doors to promotions and growth within your organization. Enrich your vocabulary, polish your pronunciation, and gain the self-assurance needed to navigate the intricacies of corporate interactions. Join English Caffe and embark on a transformative journey towards becoming a proficient and poised communicator. Your success story begins with effective English communication!
SPOKEN ENGLISH CLASSES FOR
Embarking on your professional journey as a fresh graduate can be both exciting and challenging. English Caffe is here to equip you with the vital skills to ace job interviews and secure your dream job. Our tailored Spoken English Classes in Greater Noida provide a comprehensive toolkit for effective communication, boosting your confidence and interview prowess. Navigate interviews with finesse, showcase your expertise, articulate your thoughts effortlessly, and leave a lasting impression on potential employers. Our experienced instructors understand the nuances of interview communication and guide you through mock interviews, personalized feedback, and industry insights, ensuring you're prepared for any question that comes your way. Join English Caffe's program to enhance your English fluency, conquer interview jitters, stand out in the competitive job market, and embark on a successful career journey. Your ideal job awaits – unlock the doors to success with English Caffe today!
SPOKEN ENGLISH CLASSES FOR
For university students aiming to excel academically and secure their future career, English Caffe presents tailored Spoken English Classes. Our comprehensive program equips you with the language skills necessary for effective communication in your studies and beyond. From engaging classroom discussions to mastering the art of job interviews, our expert instructors provide personalized guidance. Enhance your vocabulary, articulate thoughts with clarity, and boost your confidence, not only enriching your academic experience but also preparing you for the competitive job market. With English Caffe's holistic approach, you'll not only thrive in your academic pursuits but also set a strong foundation for success in your professional journey. Join us today and embark on a transformative learning journey that not only hones your language skills but also empowers you to confidently navigate academic challenges and future career opportunities. Your journey towards excellence starts here at English Caffe!
1. Meet us for a FREE Level Test
Visit us Today at Alpha 1 Commercial Belt and take a FREE level test to determine your current proficiency in English
2. Know Your Course
We connect you with a counsellor and
you can discuss all your queries and doubts
before you join a course.
3. Join & Start Making Progress
Once you have learnt about the course and liked it. You can complete the joining formalities and start improving your skills.
Senior-level Professionals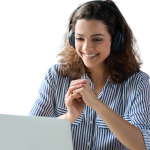 Entry-level Professionals
Self-employed & Business Persons
25,000
Individuals Trained
2,00,000
Hours of Training Delivered
1000+
Reviews & Ratings Online
Communication-based Classes
80% of your class time is dedicated to different speaking activities. 
Maximum 8-10 students in a batch to make the classes highly result-oriented.
Individual Attention & Feedback​
Small batches also help us focus on each student in the class.
1.5 hours of practice Monday to Friday and 4 hours of practice on Saturday & Sunday.
FREE Need-based Course Extension​
100% improvement assurance.
100% Placement Assistance​
We help you connect with relevant recruiters to help you get your ideal job.
Batches available between 7 am- 9 pm. Choose a timing that suits your schedule.
Weekday & Weekend Batches​
Don't have time on weekdays due to job? We have weekend classes as well.
You need continued practice after you complete your course so we have FREE weekend practice sessions for you.
A Lot of Speaking Activities

Group Discussions & Debates
Develop Fluency in English
Become a Confident Speaker
Neutralize Your Pronunciation
Improve Your Communication Skills
Develop a Confident & Positive Personality
Deliver Effective Speeches & Presentations
Attend Meetings More Confidently
Learn Effective Interview Skills
Develop Interpersonal Skills
Training programs at English Caffe are developed and designed keeping in mind the diverse needs of learners. We constantly seek feedback and suggestions from our trainees to make English Caffe a better place for them to learn. That is why they love us.
Our vision is to help 10 million individuals speak English fluently & confidently by 2027
Our mission is to make quality training programs effective, engaging and fun while making them affordable.
Elevate Your English, Elevate Your Career
Join English Caffe Today to get Your Communication to the Next Level